News & Events
Bringing a wealth of global technologies and regional expertise, Lubrex enters Egyptian lubricants market
The company to sponsor the Egyptian rally team Amino Brothers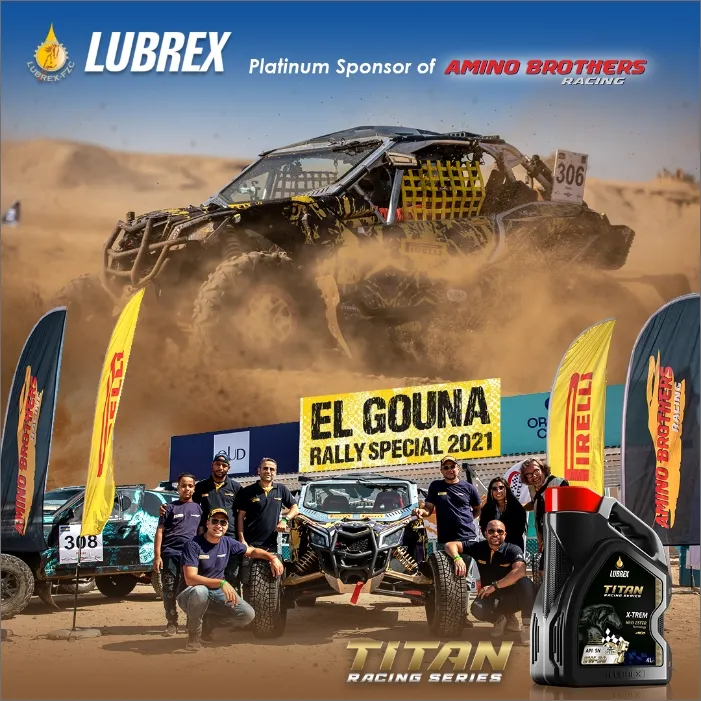 Following its success in various global markets that is coupled with distinguished regional expertise of local market demands in GCC and MENA region, lubricants manufacturer Lubrex plans to enter the promising Egyptian market. This move comes as a response to the opportunities the Egyptian markets have to offer as a result of the national ambitious vision for sustainable development in the coming years.
The company had its Egyptian debut as the main sponsor for the Amino Brothers rally team, a leading Egyptian car racing team specialised in desert rally competitions.

With the developmental surge Egypt has been witnessing recently, Lubrex is planning to enter the Egyptian markets to support those efforts. The company is planning to build successful partnerships with major local players in the automotive, marine, and industrial sectors. This shall provide Egyptian markets with high quality products that compete with international counterparts but at competitive rates.

Lubrex is a leading manufacturer of engine and machine lubricants for cars, ships, motorcycles, and industrial machineries. Its products are developed with international know-how coupled with regional knowledge that understand the specific requirements of local markets and clients, to guarantee prolonging the operational lifetime of engines while ensuring maximum performance levels. Registered in Hamriyah Free Zone, Sharjah, UAE, the company is uniquely positioned to lead in manufacturing, development, and marketing in the nascent regional and international markets and to provide unmatched level of supports and services for its customers.

Since establishment in 2005, Lubrex promoted innovation, quality, and transparency in all business aspects, enabling it to enter over 80 markets through win-win partnerships with the best local representatives around the world.

Spreading over 200,000 sqf, Lubrex's factory is equipped with top notch automated blending system and latest machineries to keep products precisely blended and to avoid human errors, leading to being certified and approved by major OEM's such as BMW, Porsche, VW, Mercedes Benz, and others.

The company is also keen on promoting its competitiveness and operational efficiency through using latest technologies leading to receiving the certifications of esteemed international standardisation organisations such as ISO, API and many more.

With a primary focus on the GCC, Middle East, Far East and Africa, Lubrex utilises its world-class technologies and local expertise to develop customer-based solution using top notch additives and mixing techniques to enhance performance and operational efficiency of engines.

Lubrex aims to be a be one of the Major players in the Egyptian market with a target of 10% market share within 3years and be the Leading Brand in the market within 5 years.